2023-2024 Season Information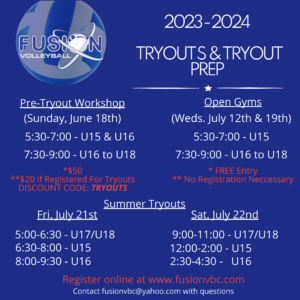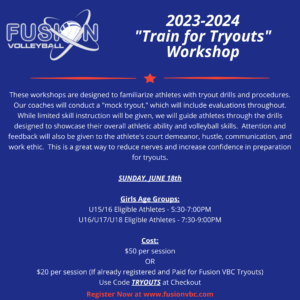 SUMMER TRYOUT DATES:
Friday, 7/21 - 5:00-6:30 (U17/U18), 6:30-8:00 (U15) & 8:00-9:30 (U16)
Saturday, 7/22 - 9:00-11:00 (U17/U18), 12:00-2:00 (U15) & 2:30-4:30 (U16)
FALL TRYOUT DATES:
Saturday, 10/21 - 9:00-11:00 (U12/U13) & 11:30-1:30 (U14)
Sunday, 10/22 - 9:00-11:00 (U14)
Sunday, 10/22 - 11:30-1:30 (U15-U18) Supplemental Tryout (IF NECESSARY)
We are offering multiple tryout dates for our Girls Junior volleyball program this season. Check out the information below to register:
* Please click on the "Register" button at the bottom of this page.
* All tryout participants MUST register online
* Help us prepare for tryouts - Register Early!
All of our tryouts will take place at:
Camp Hill Sports Center (CHSC) - Next to the Capital City Mall
3608 Hartzdale Drive
Camp Hill, PA 17011
Please arrive at tryouts 30 minutes prior to start time and have the following available:
1. Confirmation of your online registration
2. $50 tryout fee if not already paid online
3. Proof of KRVA registration (U15 - U18)
**IMPORTANT NEW INFORMATION**
If you have a current KRVA/AAU Membership for the 2022/2023 season, they do not expire until 8/31/23.  You will ONLY need to have a new Tryout Pass IF you do not have a current KRVA/AAU Membership.  If your athlete accepts on a team, they will need an updated membership after September 1st for the 2023/2024 season.
4. Proof of AAU registration (U12 - U14)
5. KRVA Medical Release form
Click on "Team Info & Fees" to see the details our program offerings. If you have questions or special requests, please email us at Fusionvbc@yahoo.com or Fusionvbc1@gmail.com